"Eric was amazing, and the kids had so much fun! Thank you so much! The map was really cool... what a great idea and such a nice touch." The Culver Family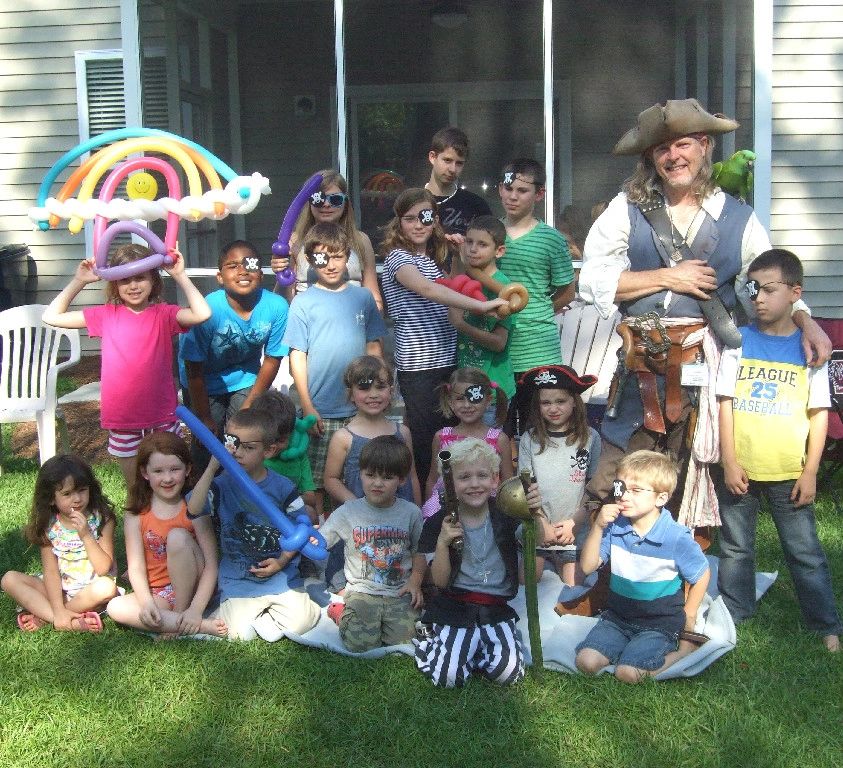 Charleston Magazine says, "Entertaining and Lively. Island Paradise Balloon Art pirate Eric Lavender was a crowd-pleaser, telling ghost stories and creating balloon art for the kids. He also brought along his friend Bob the Macaw, who drew a crowd with his loud whistles and chatter."
This is the 2nd year in a row using Island Paradise Balloon Art for my daughter's birthday party. Amazing!! It was a Smurf themed party and the Twister made both Smurfette and Papa Smurf. My daughter was thrilled. Highly recommend and will use again! Thanks for making the party a hit! Rob Duren
"The party was so much fun thanks to Eric!!! The balloon art was a great way to start the party!! The kids looked enthralled with the pirate history. Abigail continues to tell me pirate facts that she learned from Eric (I'm glad that the kids learned something about Charleston history). The treasure hunt was also a big hit. Abigail thought it was cool that Eric asked her to lead the way and to help carry the treasure chest. Abigail said she loved the mermaid balloon and the dolphin balloon the best. That made her feel special. As an aside, the kids thought it was great when Doozer pooped on Eric's shoulder! HAHAHA. Thank you so much for the job well done!!! We all had a great time!" Ainsley Dyson
"Eric is terrific. The kids loved him. He was not only patient and kind, he was entertaining and talented, too! We really loved having him. Best of all, my son still has the Spider Man he made. It's one of his favorite presents! Please tell him how much we appreciated him." Debra Kerr
"The balloons were wonderful! Eric did a great job of interacting with the kids and they all loved their aliens, hats, and swords. We will be in touch for next year's party. Have a great day!" Megan, Luke Wilson Special Events
"Thanks so much for everything! Becky was great....all the kids loved her! Maggie was so excited that she had "special" pre-made princess balloons for her. I was so impressed that she took the time prior to the party and remembered that I mentioned Maggie's love for Disney princesses and made a super cool Cinderella!! I had numerous parents come to me with awesome feedback....in fact, I gave your information to another mom and she can't wait! Thanks again for helping make Maggie's Birthday so special!!" Lindsay Strader
"Everything was amazing, thank you so much. I think we were all blown away by the level of talent. Thank you!" Wendy Reiss
"The young woman who came did such a fabulous job. She interacted with the children & adults very well. She worked extremely hard. Her balloon art was fantastic and we truly felt like she was a part of our Holy Cross family. Thank you!" Sue Cuthbert, Director, Holy Cross Island School
"I was very pleased with your services. Your staff really brought the right touch to this event and the kids love them! Thank you for Capt. Bob's appearance!" Martine Wolfe, Mt. Pleasant Recreation Dept.

"Becky was so amazing. She had a crowd around her from the moment she arrived until she left." Lisa Baker, Hamlin Helping Hands
"Everyone had a great time, and the artists were great!" Sally Ehrenfried, Blackbaud
"It was great and the kids and even some adults really enjoyed themselves. Thank you again so much and we will certainly keep you in mind for other events that we have." Kristin Randall, MUSC
"Thank you so much for your help! Eric was a big hit! He had a line all night. My little one is delighted with his fishing pole and fish:) We will definitely have you come again!" Diana Browder, Island Club
"Thanks so much to you! Everything was great and this year was our biggest festival yet!! We will call you again if we have any other events coming up in the future." Tracy Migliara, Daniel Island Academy PTA
"Island Paradise Balloon Art has become a staple at the Mellow Mushroom, Mount Pleasant on Monday nights. The talented balloon twisters not only awe the children, but the adults and staff always look forward to the unique characters that appear right before their eyes. We have seen an increase in sales since the introduction of Island Paradise Balloon Art to our resturant as they add entertainment and atmosphere that creates more than just a pizza place but a dining experience." Katrina Buff, Owner/Marketing Manager
"A big "thank you" to Kaitlyn and Island Paradise Balloon Art! My daughter's party was a huge success all in part to the variety of designs twisted up. The girls loved the crowns, bracelets and butterflys ... The boys liked Spiderman, of course! Thanks again for a job well done. I would highly recommend Island Paradise Balloon Art AND Kaitlyn to friends and family!" Rob Duren, Facebook
"Thank you for being part of the 20th Annual Children's Day Festival this year... As always you and Bob were a great hit at the event and enjoyed by hundreds of children." Su McManus-Frost, Event Coordinator, Town of Mt. Pleasant
About a Pirate Party: Sabrina and Eric, Thank you, so much for the wonderful Birthday party adventure! We had so much fun and you guys were GREAT! We will be using you again! Thanks, Natasha Beard
From Heartland Health Care: They loved her (Heather) and we will certainly have you folks back. I think our next big event in in June, National Nursing Assistants Week. I will contact you with our events and get something scheduled. Thanks again, and Heather was awesome! Residents and employees loved her. Heartland Health Care
Corporate Party: "Thank you so much for coming to our Picnic on Saturday. It was a blast and I know everyone enjoyed you being there. We've gotten a lot of positive feedback from everyone. I will definitely keep you in mind if another event comes up for us." Ashley Stone, Select Health of South Carolina
"Rachel was amazing! The kids were just thrilled with all the fabulous balloons she made them! Even our big kids were impressed! I hope that we will have another opportunity in the future to work with y'all! Awesome experience! Thank you so much! Kerri Swindler
About a Birthday Party: Everyone had a blast. Having ya'll help with the party was just the right touch. We all were very pleased and look forward to calling upon you again in the future. Thank you again, David Pabst
About a Birthday Party: Everything was amazing, thank you so much. I think we were all blown away with the level of talent. Thank you! Wendy Reiss
Island Paradise Balloon Art...A Must for the kids My rating: 5 Stars "Island Paradise Balloon Art is excellent for any event. Young and old alike will get a kick out of "Bob" the Macaw. Eric, the Pirate, keeps the fun going with his storytelling and balloon making for kids. Get them for your party, you'll love them!" Gary Griffin , WEZL
About Appearance at Just Fresh in Belle Hall: "Feedback from everyone about Eric has been really positive, I think he did a great job and loved Bob!! I will definitely keep ya'll in mind for our next event!" Sara E. McGill, Cognetix Advertising and Marketing
Private Birthday Party: "We want to thank you for coming to Royce's party and making it very special. The parents of the children attending were very impressed on how professional you were with the kids even though they had odd request like "broken balloons". Too funny! We loved all that you did and look forward to working with you again in the future! I hope to send you many referrals." The Piepers, Summerville, SC
MUST SEE!! My rating: 5 Stars
"The stories are excellent and the art is fantastic!" Palmettobizbuzz.com
Hit of the party! My rating: 5 Stars "We had Eric and Bob at a children's event and they were the hit of the entire day! Eric is lovely to work with and Bob is charming. :) A long line of children remained well after our event was over and they stayed the whole time to be sure every kid left with a smile on their face! Thanks guys!" Palmettobizbuzz.com
"It was a sad day for me last Sunday when you told me you are leaving Florida. You are a great performer in the art of doing things with those balloons. Kids love to be around you and people enjoy your presence. I wish you well and I know that wherever you go you will make people happy." Harold Castillo-Serrano, Owner / Operator Dickeys Barbecue Pit
Tour & Storytelling Reviews
From the Edgar Allan Poe Library: "When Eric Lavender walks into the room all activities cease, and the attention is totally focused toward the dreadlocks, the swashbuckling outfit and the parrot. His stories of life on the Carolina coast as a pirate come alive and his audience is mesmerized. Eric presented a program for the Edgar Allan Poe library and we are still talking about it. His attention to detail, his life-like appearance and his ability to tell stories are all part of his alter ego. The magic comes alive. He is truly a wonderful teller of stories." Jeri England, Manager, Edgar Allan Poe Library, Sullivan's Island.
5 STARS! "What an awesome tour. Highly recommended and definitely a must if you are going to be in Charleston. Eric did a wonderful job with the pirate history of Charleston. We will definitely be back and be back for another tour of Charleston." Jeff Baker, FaceBook
"We were recently in Charleston and lucked upon Eric and Cpt. Bob. My son wanted to go on the tour, which I thought would be a bit hokey, so we went. I must say I was WRONG. We had several tours of Charleston and I must say ERIC IS THE BEST TOUR GUIDE IN TOWN!!!!! We learned more about the city and pirates than we could... have ever dreamed and had fun doing it. YOU GUYS ARE AWESOME!!!!!!!!!!! Thanks for a great time," The Powell Family, FaceBook
5 STARS! "We would highly recommend this tour - learned so much about the history of Charleston in a fun and new perspective... A must do if you visit Charleston." Ramona Heranadez Rice, FaceBook
"This was a great tour, followed by a wonderful meal and the Buccaneer restaurant. The day was HOT, but we all hung together. Thanks for keeping us in the shade as much as possible. My 4 and 8 year-old boys loved Captain Bob!" Amanda Willocks-Giles. FaceBook
"My family and I enjoyed our tour today, thank you Captain Bob and Eric! The meal afterward was also very good, I will definintely reccommend this combo tour/meal to friends and family!" Stephen May - FaceBook
"We were looking for an informative, family, fun tour; you delivered! Our entire group loved the entertaining historical walking tour. You have a natural ability to paint grand pictures in our minds. Coupled with the beautiful historical backdrop of Charleston, we felt like we were in the thick of it all. Special thanks for keeping adult descriptions suitable for young ears... We really enjoyed our pirate experience with you as our story teller. Thank you for the recommendation on the Buccaneer Restaurant. All in all, we had an adventurous and enjoyable afternoon. Thank you for the memories." Baldwin Family,Residents of North Carolina and Michigan December 30, 2009
"We wanted to tell you that the Pirate Tour was the highlight of our entire trip to SC. As I told Eric, it was worth every penny. His historic knowledge, gift for story telling, and love for the city were very impressive. He even made it understandable and fun for our 9 year old daughter. You always know you are on the right tour, when other tours stop to look at yours! The only thing I regret is not taking the lunch/dinner tour.You are right, it is a bargain! We appreciate the service and assistance you gave us before the tour as well." The Mason Family
5 STARS! "We all had a great time with Eric and Captain Bob and a fantastic lunch at the Buccaneer restaurant. It was very hot and we felt bad for both of them but they managed to do a wonderful job! Our boys are 5 & 2, they are still talking about "their pirate", and of course their favorite Bob. We will definitely be back for another tour! Thanks alot!!!" Alexandra Irwin, FaceBook
"My son, Caden, and I visited Charleston for the first time in July. We chose Charleston Pirate Tours as the tour we were to take of the historic downtown area. It was a great choice! My son loved every minute and I even found myself reliving information I learned on the tour to others back home. What a great tour (even in the blistering heat :))! Thanks!" Angela Decker, FaceBook
My family and I had a GREAT time on the tour today. My eight-year old didn't say much on the tour, but has not stopped talking about it since. We also did the tour and meal combination and that was so worth it. This tour is not to be missed! The Tomlinsons, Facebook
5 STARS! "Wonderful Tour!! We have a 2 and 4yr old girls and they enjoyed it as well. Would def suggest to anyone and would love to do it again." Jill Northway Harris, FaceBook
"The best historical pirate tour guide in the business. I thought the tour was informative and entertaining. You really know a lot about pirate history and your presentation was excellent. One thing though-the parrot is fun and great but he does get in the way of your commentary. could you think of a separate routine with the parrot, maybe just posing was unique enough or just leave him out when you start your talk. I am actually working on some pirate fiction in the Caribbean. Can I call on you again for more information? Thank you." Dr. Curtis Sonny and Barbara.
"Thank you for taking Scott and I on the Pirate Tour today. I loved your stories and how you intermixed the pirate stories with the ghost stories. I thought your storytelling was great and was very pleased with learning about stuff I'd never heard about before." Shuva, Davenport, IA
"The Best Ghost Walk I've Ever Been On!!! Our guide's name was Eric, and he was fantastic! Very knowledgeable about the history of the area, and very entertaining. He told great ghost stories, and answered every question we had. I have been on many ghost walks, in Gettysburg, Savannah, etc., and this one ranks in the top 3. We didn't want it to end!!!!" Sincerely, Hilda Nichols, Tennessee Zerve.com
"The night-time jail tour was great. We arrived at dusk, the jail was creepy to begin with and bats were flying out of it. The tour guide, Eric, is very knowledgeable. I don't know about it really being haunted, but hey, whatever, it was entertainment... I would recommend this tour for it's entertainment value." Zerve.com
"Fun and very informative, lots of history thrown in: "Eric, was a lot a fun. He provided history and fun facts all about Charleston. We all enjoyed it." Thanks. Cathy Zerve.com
"We had a great time... The best part of the tour was listening to our guide... He was very, very talented. You could close your eyes and feel like you're back in history in the 1700s and 1800s... Loved our guide... Bottom line best evening entertainment for just $16. See for yourself." Elena (from) Bucharest, Romania Zerve.com
A lot of fun! 5 Stars "Eric was our tour guide. He was a great story teller and very personable. Would definitely take this tour again... Thanks for the great tour! We had a great time..." Zerve.com
"My tour guide, Eric, was very personable, lively and a great storyteller. Although we were just walking the hot, humid streets of Charleston, he kept the crowd entertained and interested in the stories being told. Good job Eric." Zerve.com
"Thanks so much we had a great time w/ you! keep up the great work!" Rob Parslow via email